IBA Student Shines at MUNTR 15'
"I am a product of my institution", never had I felt prouder in saying these words, this was my involuntary response to the NATO representative's question, who had very inquisitively inquired about my eloquence and command over the UN language, and the diplomatic skills that I apparently possessed .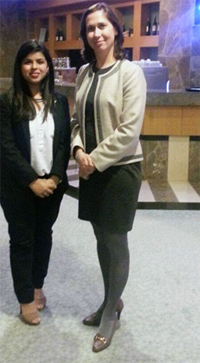 You know you are at the right place, the right institute, when everyone from your Associate Dean to your colleagues appreciate your potential, embrace your failures and celebrate your success, as if one's own – such is IBA . It is only when you step out into the real world, you realize that this institutes' name becomes your skin and its reputation your attire and only when you taste success, you realize the subliminal yet critical role it has played in shaping you.
I recently had a chance to represent IBA at the Model United Nations Conference Turkey – MUNTR 2015. Two days before the conference my committee and country allotment was changed and I was allocated Future North Atlantic Treaty Organization – the most advanced, open agenda/ crisis committee at MUNTR this year requiring me to discuss issues that were to take place in the year 2049. My country was Lithuania; a country that in the real world is not a part of the NATO. They claimed "Anything is possible in FNATO" and it was true, the impossible did actually happen.
Not only did I win the Outstanding Diplomat Award given the odds but I also had the profound privilege to discuss my future prospects with regards to policy making and also my suggested policies with the actual NATO representative Ms. Barbora Marankora, in a private meeting.
Since the country allotted to me, is not a part of NATO in the real world, and since Lithuania had very little effect or influence on NATO's actions, it meant that I had to devise strategies of my own from scratch. This gave me room to develop my own policy set and mould Lithuania's stance in whatever way I liked. I came up with frameworks of the likes of International Intelligence Investigative Collaboration- IIIC more commonly referred to as the triple I C. This policy in particular paved my way to victory, the mindset which it propagated spread like wild fire and even though I did not draft a single communiqué, working paper or draft resolution, this policy was endorsed by each and every document that was brought to the floor. This goes a long way in terms of indicating its acceptance by the entire international community present.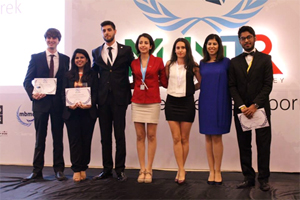 It was this exacting policy amongst the many that I suggested that caught Ms. Maronkora's attention. She had come from Hague to give a key note address on day one of the conference and the following two days she had reserved to observe the progress of FNATO. By the end of the third day of the conference I got a note saying that the NATO Representative would like to meet me in private to discuss my future prospects with regards to NATO.
As intimidating as the setting of the meeting was, so were her questions. It was interesting how she questioned me about my policies, which to her seemed, relatively too liberal and yet collective, being in stark contrast to my Pakistani origin. She appreciated my candidness to her somewhat direct questions. I explained to her when inquired, the feelings that Pakistanis have regarding NATO as an organization. I took the liberty to explain to her that a better picture of the organization indeed needs to be painted and that we as a nation are more democratically alive then perceived by the world. We are not a nation of goons, I jokingly added. To which she said that after seeing the performance of many Pakistani delegates at the conference in different committees, she is sure we are anything, but.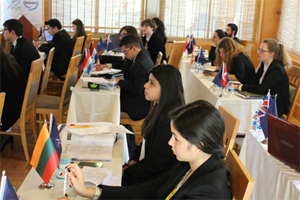 She honored me by inviting me to the NATO headquarters. She also expressed her regret as to how she could not offer me a job at the NATO itself since only member states' citizens can work for the organization but encouraged me to join the UN body in any capacity possible and that she would be happy to write me a letter of recommendation. And that to me meant a lot. It meant that I had done something right, it felt like i did justice to my country, my institute and to all those who were praying for me back home.
I won, before I had formally won.
This trip was a first of many things, my first International MUN, my first crisis committee, my first outstanding diplomat award, most importantly my first encounter with a person of such high international standing and something tells me it was the first of many great things to come.