Orientation Sessions Fall 2017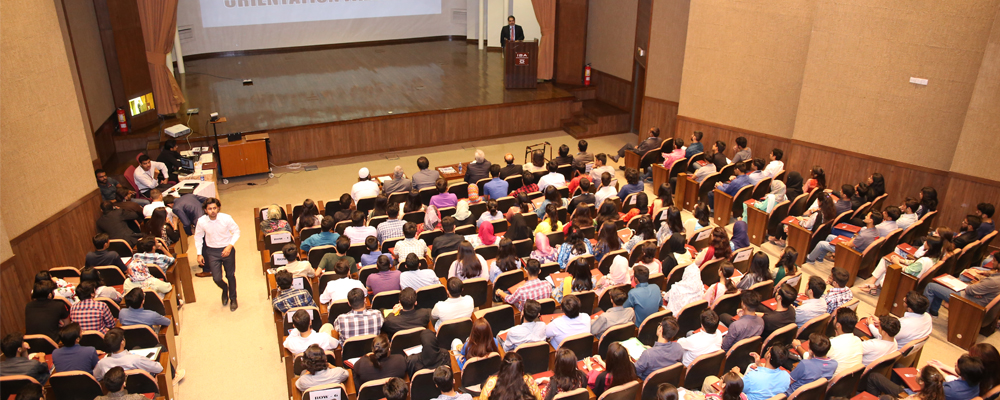 On 21st August, 2017, IBA warmly welcomed its Freshmen from its Undergraduate and Postgraduate programmes through an orientation ceremony. The program started with a brief documentary on all aspects of IBA shown to the students, followed by Tilawat. After welcoming the students to their 1st and IBA's 62nd year, the General Manager-Administration, Mr. Aamer Shabbir, Wing Commander (Retd.), briefed the new batch about the Code of Conduct, IBA Community, Academic Calendar, Attendance & Grading rules and Affiliations. He gave the audience a virtual tour of IBA, and gave a detailed description of the 3190-strong student body, commenting on the impressive increase in female participation at 46%.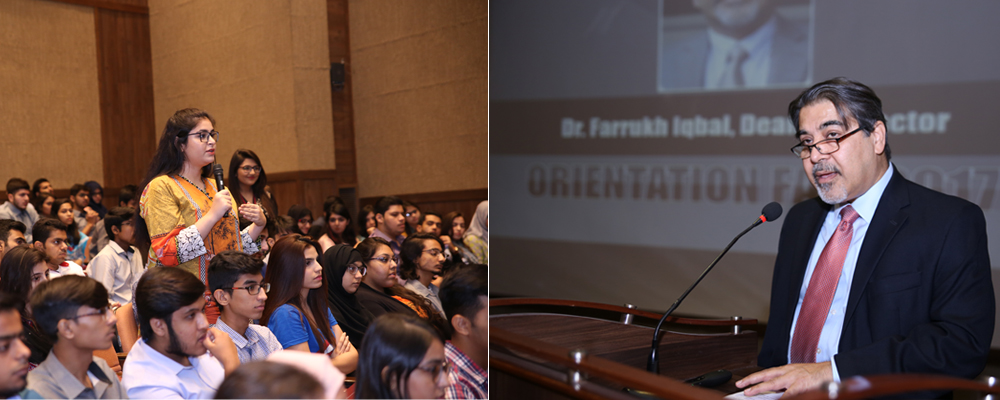 Following that was an introduction to enrolment, attendance and grading rules by the Controller of Examinations, Mr. Abdul Wajid Khan. Later on, the Directors and Chairpersons of the Programs took charge of the stage and delivered comprehensive overviews of the undergraduate and postgraduate programmes and IBA's core values. The Program Director of the Undergraduate Program Mr. Sharjeel Hasnie took charge of the stage and delivered a comprehensive overview of the BBA Program. While Dr. Junaid Alam shedding light on the comprehensiveness of IBA's MBA degree said, 'IBA is a factory of producing brilliant CEOs and that no other institution in Pakistan has produced as many CEOs and Country Managers'. He went on to talk about the importance of education and the part a good MBA program plays in it.

Mr. S.M. Saeed, Student Counselor, then enumerated the list of clubs, societies, their patrons and the activities organized by them, which include excursion trips, major events, etc.

Dr. Farrukh Iqbal, the Dean & Director IBA, then congratulated the students in his welcome address and briefly talked about various aspects of the institute, mentioning that they are now officially part of the largest class of Freshmen IBA has ever admitted. He expressed his pleasure at the overwhelming response from the student body, and stressed majorly on the increased participation of females. He mentioned that IBA is the greatest contributor of CEOs to Pakistan and has supplied fresh talent to organizations like Shell, Unilever, P&G etc. He also talked about the 3 major transformations IBA is undergoing: "Physical, intellectual and integration of social diversity", and said "Diversity promotes tolerance. Welcome to this world of diversity which is IBA. I hope you all thrive in it!"

Following the orientation sessions, Q/A sessions between the students and the Dean ensued, where students asked many pertinent questions. The ceremony marked its end as refreshments were served and students were taken for a campus tour.