Orientation Ceremony IBA Talent Hunt Program 2018
IBA to prepare 170 Underprivileged Students from across Pakistan for Admissions Test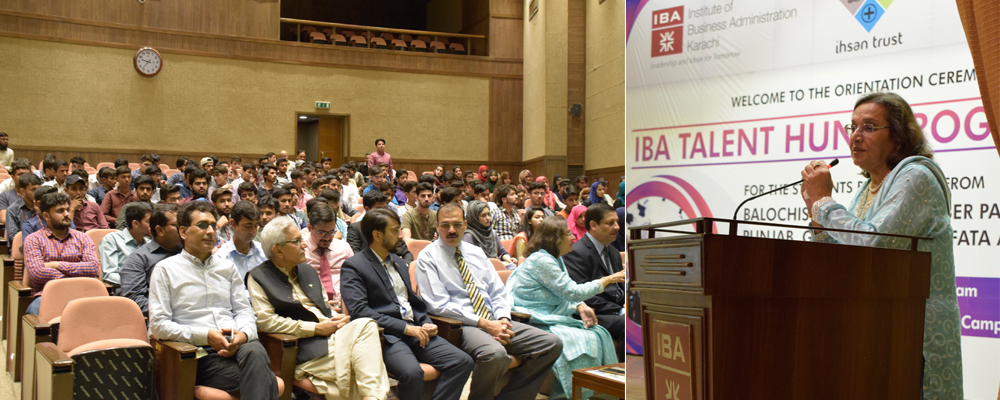 May 30, 2018: The orientation ceremony of the IBA Talent Hunt Program (THP) took place at the Gani Tayub Auditorium, IBA main campus. Representatives from the sponsoring organizations namely, Ihsan Trust – Meezan Bank Limited, OGDCL Pakistan and Community Development Program (CDP) - P&D Government of Sindh, attended the event along with the faculty and scholars of IBA-IT National Talent Hunt Program and IBA-CDP Sindh Talent Hunt Program.

The ceremony commenced with the recitation of the Holy Quran and the national anthem of Pakistan. The was followed by a welcome note delivered by Dr. Zeenat Ismail, Director THP, who welcomed the batch of 2018 and wished the aspiring candidates the best of luck while cautioning that this was just the beginning and it would require a lot of hard work to get admission into IBA. She announced the Batch of 2018, which will attend the orientation program, comprises of 170 students with 35% girls and 65% boys. She also profusely thanked the major sponsors of these programs, the OGDCL, Ihsan Trust and the CDP by the Sindh Government.

Launched in 2004, the Talent Hunt Programs (THP) are aimed at the students from far-fetched areas of Sindh, Punjab, Baluchistan, Khyber Pakhtunkhwa, FATA and Gilgit Baltistan. The orientation program is an intensive two-month educational and training program that prepares students for IBA's entry test.

Mr. Aamir Shabbir, General Manager Administration IBA, while presenting the vision and mission of the IBA, stressed upon the core values of the institution and their role in the nurturance of the IBA community.

Expanding on the educational philosophy of the NTHP program, Dean and Director IBA, Dr. Farrukh Iqbal, commented that the IBA THP program caters to not only the financial gap but also the awareness and preparation gap, which otherwise hinders the access to education. Acknowledging that the batch of 2018 is the largest one in the history of THP, he emphasized on the significance of the diversity it will add to the IBA student body.

"There are no short cuts to success," said Mr. Ahmed Ali Siddiqui, Senior Vice President Ihsan Trust. Mr. Siddiqui mentioned that Ihsan Trust is the largest interest free loan provider for the educational institutions of Pakistan and intends to expand its provision of financial support to an even larger number of students with financial constraints. Pervez Ahmed Chandio, Director UCBPRP, Government of Sindh, remarked that it was an honor and pleasure to support the program and congratulated the students for qualifying for the orientation program.

Among other speakers were Mr. Syed Hussain Haider, Director AISEM & International Consultant, Brig. Waseem ul Haq, Principal Cadet College Spinkai, Mr. Fayyaz Ur Rehman, Vice President Ihsan Trust, and Mr. Danish Sajid Khan, NTHP Alumni.

The lead faculty members and mentors were introduced followed by success stories of THP students. Dean & Director IBA concluded the ceremony by presenting tokens of appreciation to the esteemed donors and prestigious guests.
https://www.facebook.com/IBA.NTHP/
https://www.facebook.com/IBA.STHP/
Media Coverage:
Pakistan Gulf & Economist: Click here to view
Pakistan Observer: https://pakobserver.net/orientation-ceremony-of-iba-talent-hunt-held/
Nawai Waqt: Click here to view
Daily Ausaf: Click here to view