IBA Music Olympiad

IBA Music Olympiad took place from 10th -12th of April at IBA Main Campus. These dates were somewhat imprinted in on the minds of the determined organizers of IBA Music Olympiad, an event that took place for the first time in IBA's history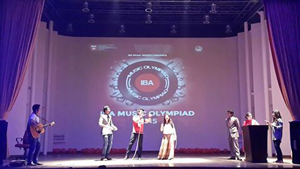 The beautiful sunny day that dawned on the 10th was the start of an ethereal three-day learning journey. Aspiring musicians from across the country gathered to showcase their talents and challenge their ability at singing. Participants from Szabist, Karachi University, The City School and several private candidates were present and unleashed the magical vocal prowess of the finest of Karachi's youth.
The Olympiad kicked off with the Voice of Pakistan competition, judged by the esteemed Natasha Baig and Zaryab Sultan. The compositions varied from Pakistani pop music to popular Bollywood songs and even included some astonishing performances of classical songs. Farwah Abbas in particular took the spotlight away. Simultaneously, the beatboxing competition ensued with Arbal Nadeem and Asfandyar Junejo as judges. The most vibrant and varied contest then followed suit where groups of individuals showed off their electrical and awe-inspiring dance moves. Breakdancing, energizing moves electrified the audience and the judge, Neil Uchong and Hassan Rizvi.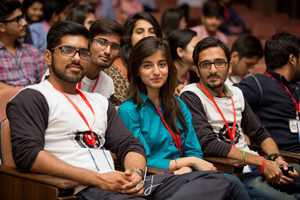 "Battle of Bands" had a charged atmosphere where the sounds of the music vibrated and echoed in the amphitheater. The sun dipped into the sky adding to the enchanting aura experienced by all present with Ali Noor mesmerizing the audience with his charm and aura.
Omran Shafique conducted the first workshop: it was an immense opportunity for the participants to learn the intricacies of playing an instrument. He spoke of the various styles of performing. Babar Ali Khanna and Saif Samejo conducted enthralling workshops the following days that were extremely interactive and engaged the audience. The participants learnt a lot and gained a few tips on improving themselves.
The concert by Overload and Josh Band highlighted the crux of the event with a mesmerizing set-up. Ali Noor (From the band Noori) commended the entire Host Team on pulling of such an exciting and enlightening musical episode and saluted the conception of the idea.
Overall, IMO, an event filled with entertainment and musical talents was able to win hearts of its audience.