Session on "Leadership & Motivational Skills" organized by NTHP Program Office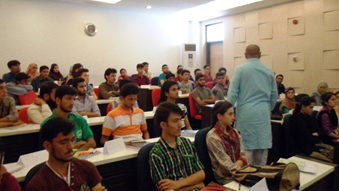 The NTHP Program office have organized a guest speaker session on LEADERSHIP & MOTIVATIONAL SKILLS on June 15, 2015 for the students of NTHP Program- Batch 2015.
The guest speaker Syed Hussain Haider, have a long list of achievements. A united nations Alumni, an M.Phil in Corporate Governance, Masters in Public Policy, M.B.A in political sciences, LLB and PGD's in HRM, Labor Laws, Intellectual property rights Laws and International Leadership. He has been working as a management and legal consultant for the past 15 years with various private and public sector organizations. He is also a management consultant with Government of Pakistan since 12 years and has been involved with reengineering and restructuring organizational processes in more than 9 government Departments. He is as Associate Professor of management and law, teaching M.Phil, MBA and M.Com at University of Central Punjab. He is associated with Imperial College Lahore, principle coordinator for Punjab Development forums, worked with Punjab resource Management program, capacity building and training expert with Asian Development Bank, Manila, Philippines and numerous other international financial institutes. He is a Consultant for the ASP-LUMS program at Lahore University of Management Sciences and is involved in their Executive trainings. Mr. Syed Hussain Haider has been pivotal in the establishment of the Center of Leadership Excellence Lahore and Youth Development Centre, Punjab House, Muree. He is engaged in numerous developmental activities and is board member of different NGO's and CSO's along with being the deputy Counsel General of Pakistan institute of Human Rights.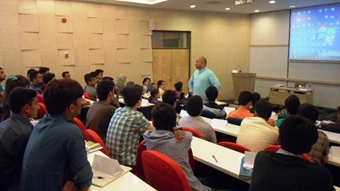 The session started with a brief introduction of the guest speaker given by Syed Rizwan Ali Bukhari. In the next three hours the seminar room echoed with the voice of the speaker. In his lecture on Motivational Leadership he talked on all the aspects of a true leadership motivating the future leaders. He believes that the destiny of Pakistan can only be changed when its youth realize their true potential and start following the values of humanity. He considers the human resource the most vital, the fear of the cruel is and now people are aware of their rights. He gave small examples from our daily lives, for he believes one should find positivity around him to have motivation and inspiration resulting in giving hopes to others. In the end of session he said, 'the best source to learn is to learn from the good people around you, your parents, teachers, friends and fellows and avail the opportunities like IBA have given to them in the form National Talent Hunt Program'.