Khaadi Tour Report

Khaadi has global designs
"My dream is to make Khaadi a multinational – completely process-driven and completely professional-led. Khaadi will be the first Pakistani brand to actually go global – we have the potential to go and create history," was how Shamoon Sultan, the founder and chairman of Khaadi, channeled positive energy to a group of MBA students from the IBA visiting his premises on April 2.
The encounter with the Khaadi chief capped off hours of vast learning for the students of MBA-I (Morning) Marketing Management class, which is offered by Mr. Jami Moiz, Asst. Professor at the IBA. The group, which also included a few senior students, first visited the Khaadi factory where stitching was done for both men's and women's clothing.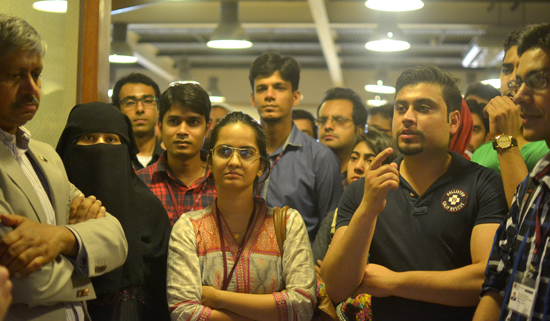 How it's done
Over at the factory, students observed various stages of the process, from cutting to stitching to cropping of a particular clothing item. They also observed the embroidery process that was fully automated with some sixty state-of-the art machines doing decorative needlework. The production staff responded to many student queries that helped students better understand the production process.
The factory visit was followed by a trip down to the Khaadi head office, where departments like design, style, R&D and marketing are housed. Students were immediately taken with the layout and design of the corporate workplace, which seemed in sync with the ambience of Khaadi retail outlets. But now students had more questions than silent observations.
Students learnt what went behind the design thinking at Khaadi from its Design chief. Firstly, the design has to be for a particular season, and then the concept comes in. Pricing is very important – Khaadi has a budget for every assignment and design briefs are made accordingly. The insights generated by the marketing team and the ideas brought in by the creative head are discussed whether to take lawn in this direction or that. Khaadi looks at what is happening internationally and what other designers are doing.
R&D is integral to Khaadi's operations. The design department creates a design on paper and then sends it to the R&D, asking for a garment to be made in a particular fabric. The R&D makes the same pattern, cuts it, makes the garment, places it on punching equipment, makes the embroidery, puts it together and then shows it to the design studio. There is also a style department in-house that works on the style and patterns and provides them to the R&D.
Students also had a good exchange of ideas with Khaadi's Marketing head, who tossed a bunch of questions towards them. How should Khaadi speak to women, its main target market? How should it differentiate itself from dozens of other brands? How can it get women to step into its retail stores more often? How can the digital medium effectively support the corporate strategy? The discourse seemed like an on-the-spot focus-group discussion that hopefully generated some insights for the gentleman.
Ambition at the wheel
Fielding a volley of big-picture questions at the end, it was obvious Shamoon won't rest, even though his creative enterprise is now sustaining nearly $100 million in annual sales – an impressive feat for the sixteen-year old local lad that he and his team have nurtured.
Khaadi currently has 38 stores in Pakistan and 10 stores abroad in global cities like London, Dubai and Kuala Lumpur. "If Mango can have about 3,500 stores and Zara can have over 2,000 stores, why can't Khaadi have 1200-1500 stores across the world?" he said rhetorically.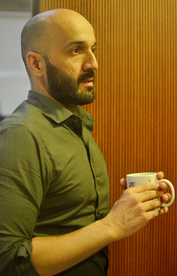 "We won't contain ourselves to Pakistan; it is a very small market for us. The country can easily have about 40 of the malls the size of Dolmen – Karachi alone can have 10-12 of those. Retail fashion, which is still a very immature market here, will burst fully into view in about four to five years here. There is still a lot of development to take place, a lot many brands to come in," he maintained.
While the potential is there, how will Khaadi fund its global ambitions? "As of now, Khaadi has zero debt; we have kept it a completely equity-based business. Initial capital was Rs3 million, which we have grown over the years. But an entrepreneur can only stretch a business so much – after a point, you need other people to take you forward. So, we plan on getting listed, within two years. We have already involved PricewaterhouseCoopers to explore the possibility," Shamoon revealed, to the delight of students with a liking for IPOs.
Growth comes at a price, though. There is a general sense among women, students pointed out, that over the years Khaadi has lost its original thing; that it focuses more on lawn and not that famous khadi fabric; and that the "exclusivity factor" is receding. Shamoon conceded that it was a serious concern.
"But the problem is that (traditional khadi) market is so small that even if we try to introduce it, it will get lost in the store. We may have to create a new brand for it if we are going to do it. We are constantly learning. For instance Khaadi Home is a new concept for us and we are still figuring it out," he said.
Towards the end of the tour, Shamoon noted that Khaadi needed to do more on the product development side before it went global on a large scale.
"Three to four years ago, we used to manufacture everything we sold. Today we are producing about 20-30 percent of what we sell. The idea is to produce no more than 5 percent of what we sell. It has to be a complete-sourcing model. You can become a manufacturer or you can be a retailer," he noted.
Design and retail – that's the direction for the Khaadi of the future.
Students extend their gratitude to the Khaadi management for providing them this amazing learning opportunity and helping them in understanding the design and production processes. They are also thankful to Mr. Jami Moiz for being the cheerful chaperone and augmenting student learning on-the-go. Students also appreciate their colleague Mr. Adnan Farooqui's efforts in liaising with the Khaadi management. Photographs are credited to Sundus I Burney Photography.
Syed Hammad Haider Shah
MBA 1'