Aug 14, 2015: 68th Independence Day was celebrated with the spirit of patriotism & brotherhood at IBA-Karachi

Pakistan's 68th Independence Day
The 68th Independence Day was celebrated with the spirit of patriotism and brotherhood on Friday, 14th August 2015, at the IBA main campus. A large number of IBA faculty, IBA Alumni and staff gathered for the happy occasion. The ceremony started off with a Dua -e-Khair for the country's prosperity.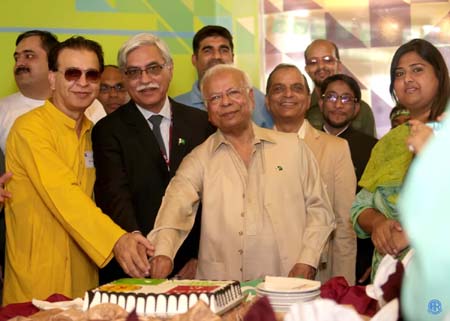 Taking the dais, Mr. Shahid Shafiq, BoG member and Alumni Representative congratulated Dr. Ishrat Husain on his conferment of Nishan e Imtiaz for his extraordinary contribution to the field of education. Mr. Shafiq said that the President of Pakistan has recognized Dr. Ishrat's contribution to the nation and what he has achieved, perhaps no one else could do the same for IBA and education at large. He also added that we need to reflect upon what our motherland has given to us and how we should be thankful for the abundance of opportunities given to us by Pakistan.
Addressing the Independence Day attendees, Dr. Ishrat Husain said he was glad to see such a big representation of IBA alumni on this 14th August and this tradition should continue. Talking about the turnaround at IBA, he said, 'I couldn't have done this alone, from the gardener to the Registrar everyone deserves praise and they all played an important role in me being conferred the Nishan e Imtiaz- as they worked alongside me'. Furthermore Dr. Ishrat said, 'We need to think for the nation's interest rather than our own self-interests as for Pakistan to prosper, we all need to stand united and work for one cause - that is Pakistan!'
On this momentous occasion a 'Token of Remembrance' in form of a sketch of Dr. Ishrat Husain was presented to him by Mr. Rizwan Rizvi- Manager Administration (City Campus).
The hoisting of the Pakistani flag by Dr. Ishrat Husain, Dean & Director IBA was followed by The National Anthem.
A special Independence Day cake was ceremoniously cut by Dr. Ishrat. The attendees were in a very patriotic mood and the event was thoroughly enjoyed by the participants.