IBAC 2015

As they say, every institute has a jewel in their crown and to say IBA Marketing Club (IMC) is one of the many IBA has been proud of during its years. It would be wrong if IMC was not credited for being a fantastic club and that it has made the institution proud every time.
IMC is managed by none other than Ms. Sidra Sarfraz and the patron has been Sir Jami Moiz. Both have played a vital role this time and alongside the IMC Panel have come up with a brilliant new idea of IBA Branding and Advertising Conference 2015. Although it was the first edition but the team and panel made sure it would match up to the highly rated events of IBA. IBAC was presided by Fakiha Khan, an office bearer in the IMC who is the founder as well. Convener Mr. Asad Zaffar, one of the most hardworking people at IBA also had a major role in the event. IBAC 2015 was staged on 27th to 29th of March and these days will forever be there in the memories of whosoever was there. From participants to MT and even our beloved sponsors from all over the country loved how the initiative by IMC responded and everyone would now have an eye set on the next edition. IBAC as the name suggests was an event that got all the brands excited but only the premium brands were able to sponsor this prestigious event. The great names that sponsored this titan event included the popularly known Tapal tea, Cinepax cinemas, Close Up toothpaste, Hakimsons, the Pakistan's favorite Pepsi, Adamjee Life Insurance company, SPF Precut Lumber, Zong and they were all lead by none other than Total. The media partners for the event were the Express group, FM93 as Radio Partners, TV one and News One, and Brands Magazine as the magazine media partner.
IBAC began on a Friday. It was a bright new sun and also a newly formed idea had finally come to life. All the registrations went smoothly with a few hurdles that could not make a lot of issue as there was an extraordinary registrations team at hand. The participants started off with the introductory speech by the event president Fakiha Khan and IMC Patron Jami Moiz. Both welcomed the participants and warmed them up for a great competition ahead.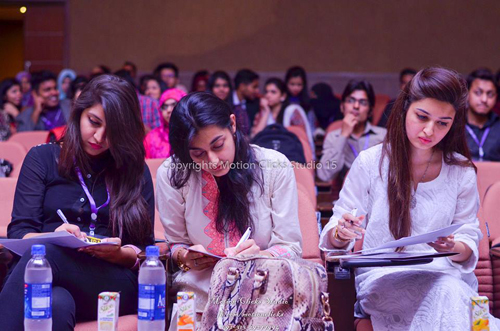 Let me take a selfie first was a competition that bonded the teams together to a new extent and right there a statement was made that IBAC 2015 was going to be something totally on a new level. Followed by one of the best events, "Ad Blunders", in which the participants took keen interest and showed how even the best Ad makers in market do make some mistakes. A debate on how Zong could be more effective with its 3G and 4G packages was held and it was compared to its competitors. After the namaz and Lunch break where everyone enjoyed their 14th Street Pizza, the Total Oils CEO came in and gave tips to the rising marketeers of the future and told them to hold on to their passions. 14th Street Pizza's brand manager was up next who told how even a small business could turn into something big with the right branding and marketing.
The judges for Ad Blunders were:
Mahmood Ali - He is currently director business development at Createch Solutions, is the creator and co-owner of www.dealmonster.pk.

Rafay Ahmed - He is currently the part of cross functional fast track program at GSK (Glaxo Smith Kline), previously he has been associated with Market Research Department at Engro Foods.

Obaid Rehman - Currently working as Asst. Manager Marketing for UBL Fund Managers, has a vast experience in Brand Marketing & Communication for UBL and previously for Sine International Pvt. Ltd.

Tracy Roque - Is currently Graduate Teaching Assistant at IBA, she previously had worked closely with brand managers, internal teams and creative agencies at "Eli Lilly and Company" and was Brand Executive for Manpasand relaunch in 2013 when in Lowe&Rauf Pakistan.

Kamran Jawaid - Currently the Managing Director at "ADiKam" Agency, also a faculty at Indus University. He is the founder of "Karachi Advertising Festival" and Founding Director of "Karachi Short Film Festival".
The Zong 3G and 4G Competitor Analysis was judged by:
Syed Salman Ali - currently the VP Marketing for Dawlance Group of Companies and Senior Marketing Manager of Zong, previously he was Head of strategic planning function at Berger Paints Pakistan Ltd.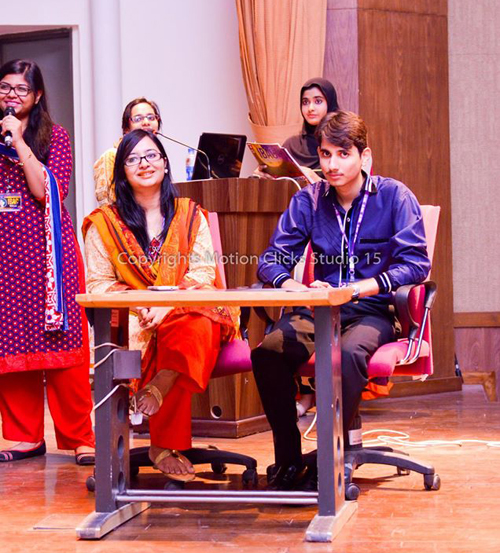 The first activity that took place on the second day of the conference was called 'Do Us a Flavor?' Teams were asked to come up with new flavors for a number of products, such as Close-up, Oreo, and Tapal Tea. The activities were judged by Anosha Adeen, Faran Atta Khan, and Ahsan Zaffar. Anosha is currently working with the PanPakistan business development team at Standard Chartered, Faran previously served the marketing function at Colgate-Palmolive, and Ahsan is currently the Marketing Assistant at S & A. Abahsain Co. Ltd. Saudia Arabia, working simultaneously for several functions, including Market Research, Business Development and Inventory Management
The second activity of the day consisted of a tagline competition. Each team was assigned a respectable brand, and the participants were asked to come up a new and refined tagline for that brand. A new tagline would help a company reposition a specific product. This round was judged by Anosha Adeen, Humayun Maqbool, who is currently the Project Consultant at Procter & Gamble, Dawood Ghazali, a project consultant at Engro Foods, and Abdul Muqeet, who is currently involved in developing feasibility for warehousing facility at Shan Foods Ltd.
The final activity for day involved guiding participants to help them come up with a digital media strategy, sponsored by Total. Teams were allowed to choose their own product, and were free to improvise and come up with something different. Judges included Anosha Adeeen, Muntazir Haider, Alina Khan, and Noman Khalid. Muntazir Haider is a part of the visiting faculty at SZABIST and Greenwich University, Alina Khan currently serves as the Assistant Media Planner at GroupM, and Noman Khalid serves as a data analyst at Predictify Me.
Day 3 started off with a presentation by Total, a subsidiary of PARCO Pakistan Ltd. The presentation talked about the general competition in the market, and highlighted some problems that companies in the Oil Refinery sector generally have to face. This was followed by a pop quiz for the participants – a buzzer round that tested their knowledge on well-known domestic and foreign products and services. The presentation was based on Zong's marketing strategy for 3G and 4G internet packages, and a bunch of statistics were shown to the crowd to help them depict how successful Zong has been so far.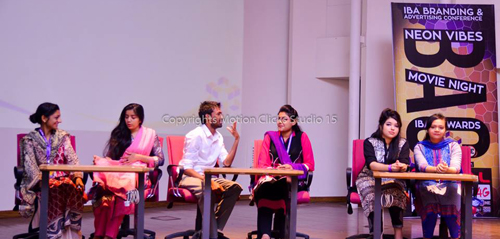 It further proceeded to talk about the launch of MBB devices, which would provide a direct competition to mobile broadband devices currently available in the market, such as the PTCL Evo. As a part of the competition, participants were asked to come up with a launch plan to help the company launch the device on social media networks. Participants could either create a new theme and logo, or use the ones which are already available.
The Zong MBB activity was followed by the last competition in the conference, called Failed Brand Repositioning. During this competition, participants were asked to reposition a particular brand, which has previously failed in the market. A repositioning strategy helps a business to differentiate their product from what other competitors have to offer, which in turn helps a business change the way a customer perceives their product. Participants performed fairly well in this part of the competition. Mehreen Ahmed, currently a Senior Brand Officer, judged this round.
While these rounds provided a great forum for all the participants to learn many things, IBAC also held social events in the evenings. At the end of the first day, the participants were taken to Cinepax to see Cinderella. While it may not have been a movie of choice for some of the people, they still enjoyed it with their friends. After the second day concluded, the IBAC management took the participants to the Ocean Towers where they had planned a Glow Night. The amazing view alone was breathtaking, but the team had also arranged for glow sticks and glow paint for the participants. Everyone enjoyed immensely, including the fun-filled ride back to the Main Campus.
The third evening was perhaps the most eventful. The excitement levels were running high and anticipation permeated the air. It was the Closing Ceremony, the time where the winners would be announced. It was a wonderful ceremony where the participants and the management team received titles and tokens of appreciation were also given to the sponsors, guests, and distinguished team members. The different Round Winners were also announced, which finally led to the Team Penta-5 from Lahore School of Economics emerging as the winners of IBAC 2015!