Engro Energy, IBA Karachi ink MoU to educate students from Tharparkar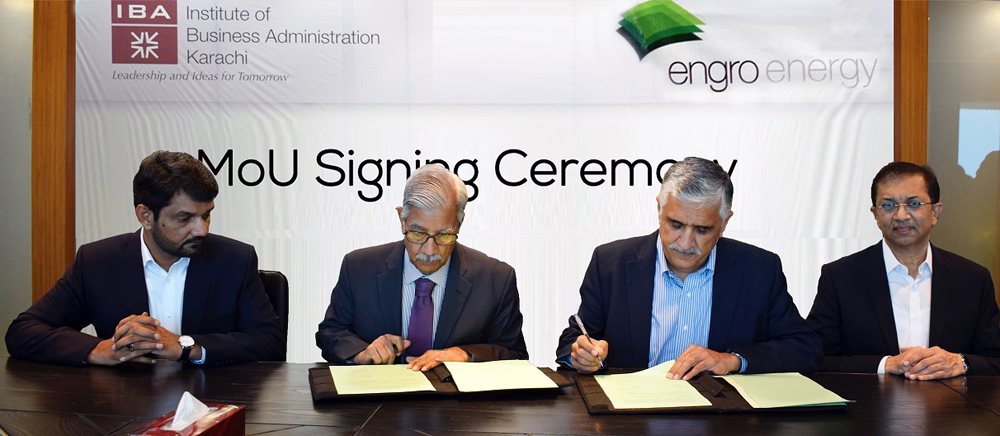 Karachi, June 25, 2018: The Institute of Business Administration (IBA), Karachi and Engro Energy Limited (EEL), signed a Memorandum of Understanding (MoU) to support higher education of students from the district of Tharparkar. Under the agreement, EEL will provide scholarships for up to 4 students belonging to this district. Mr. Shamsuddin A. Shaikh, CEO, Engro Energy along with Dr. Mohammad Nishat, Acting Executive Director, IBA Karachi, signed the MoU on behalf of the two organizations.
Marking this momentous occasion, Mr. Shamsuddin A. Shaikh, CEO, Engro Energy said, "The students from the Tharparkar districts are talented and full of potential and with the advent of this program, we aim to train them to serve within their community, as well as the country".
Shedding light on IBA's many initiatives, Dr. Mohammad Nishat said that the IBA has been reaching out to far flung areas in Pakistan to attract the best talent through our National Talent Hunt Program since 2004. "Through this concerted effort, we have been able to help hundreds of financially challenged yet deserving students to get admission into the IBA, which has helped transform their lives and that of their families", said Dr. Nishat.
Over the past six decades, the IBA has evolved into a multi-department institution for higher education, while remaining a premier business school. During 2016-17, approximately 787 students at the IBA received financial assistance worth Rs. 231.5 million; all scholarships are provided on a need-cum-merit basis.