Diwali Celebrations at IBA Boys Hostel, Karachi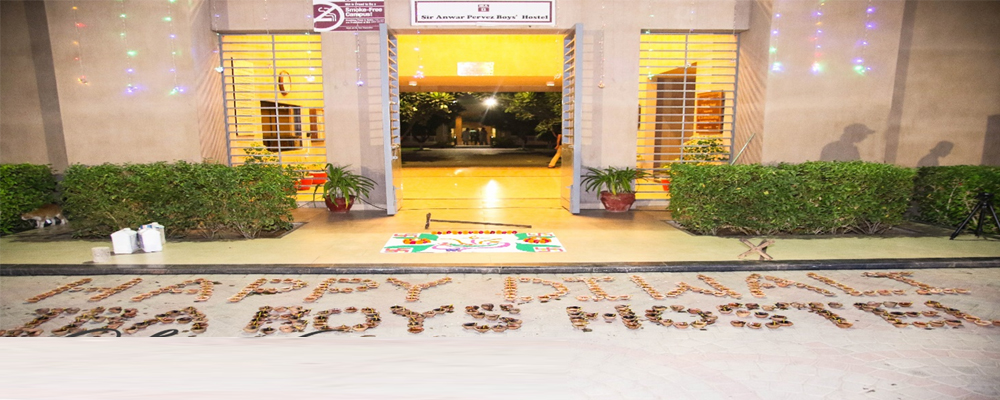 Nov 4, 2017: IBA Boys Hostel lit up with fireworks amidst the students' cheers. Fire lamps and fancy lights adorned the surroundings and crafty Rangoli (artwork made by colored rice) added zest to the usual dull environs. This was Diwali, IBA style. Organized by students from Hindu community with the support of IBA Boys Hostel Committee and its management.

The festival started with the religious rituals (Laxmi Pooja, worship of the goddess of wealth) performed by many hostelites, with active participation of students from different religious backgrounds at IBA Boys Hostel. The patron and the superintendent of IBA Boys Hostel, Mr. Jami Moiz, also joined in the festivities, which culminated on a sumptuous dinner.


Diwali is a festival of lights and is one of the biggest and most significant religious festivals of Hindu community, which is celebrated across the world. It is celebrated in the happiness of homecoming of Lord Ram, after 14 years of living in exile. He is one of the 24 incarnations of Hindus' Lord Vishnu. Lord Ram came on this planet to destroy the evils of a demon named Ravan and many others.
This event like many others is a small effort in bringing harmony among different religions in our society. We owe special gratitude to Mr. Jami Moiz, Superintendent IBA Boys Hostel and Mr. Mujahid Hussain Detho, Warden IBA Boys Hostel for helping us put up a successful event.