Cultural Exchange and Study Tour to ISB, India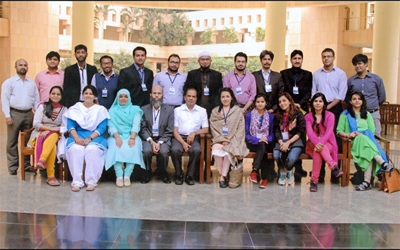 In January 2015, a group of 13 students led by Ms. Shehreena Amin, Dr. Mohammad Azam Ali and Ms. Lalarukh Ejaz visited the Indian School of Business (ISB) on a study and cultural exchange tour. This study tour was arranged by the External Linkages and International Resource Center to enhance the student and faculty level interaction between the two institutions. The group visited the two campuses of ISB located in the cities of Hyderabad and Mohali for 7 days each. The tour consisted of sessions by ISB faculty and guest speakers along with company visits. The visits and lectures were punctuated by sightseeing trips across the culturally rich Hyderabad and the contemporarily artistic Mohali. To top it all off the students of the ISB welcomed the delegation with open arms. The student body organized cricket matches, mixers, and musical sessions. These student interactions helped the delegation learn about the life and culture at ISB, it brought together students from both countries in sharing their similarities and appreciating each other's differences. One of the biggest highlights of the tour was a dinner and bonfire in honor of the IBA delegation hosted by the Deputy Dean and CEO of the Mohali Campus, Mr. Pradeep Singh. Friends and family of the Deputy Dean joined in to network with the guests. Their hospitality turned the cold Mohali night into a very warm affair. On 31st January, the group bid farewell to their ISB hosts.
IBA and ISB look forward to future visits and other collaborative programs which would strengthen the bonds between the two institutions further.