Consul General of Japan Visits IBA Karachi.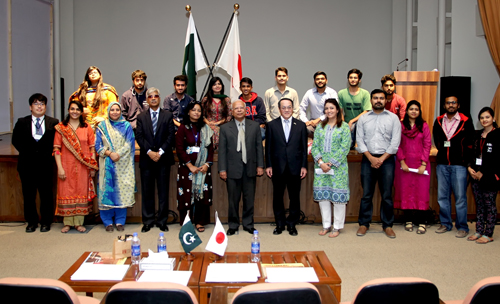 On Wednesday, December 9, 2015, the Consul General of Japan, H. E. Mr. Akira Ouchi, visited IBA for a seminar on the "Bi-lateral relations between Japan and Pakistan". Mr. Ouchi was accompanied by a team from the Consulate General of Japan in Karachi.

Mr. Ouchi's team started the session with videos highlighting the cultural and economically significant aspects of Japan. The videos presented attendees with the efficiency of the Japanese public transport, Disaster Management Innovations and Cases Studies, and studying options in Japan.

Mr. Ouchi then addressed students regarding the topic at hand. Highlighting the timeline and current figure of trade between Japan and Pakistan, His Excellency stated that the two nations have a rich history of economic cooperation which started from Pakistan importing cotton manufacturing facilities and exporting the resultant product to Japan.

Regarding economic policy, the Consul General elaborated that to increase foreign investment a consistent economic policy is needed. Unfortunately, Pakistan has had a history of inconsistent economic policies which have hindered large investment from Japan. Mr. Ouchi also informed the audience that there are almost 70 Japanese companies currently operational in Pakistan. An increasing number of companies are approaching the Pakistani government to further explore emerging opportunities for trade between the two nations.

Speaking on education, His Excellency Mr. Ouchi stressed the need to develop Human Resources. He stated that it is well known that Japan does not have any natural resources. However, the qualities of honesty, sincerity and discipline have sustained Japan through times of cultural, economic and environmental turmoil. With a 60% population of citizens aged less than 26, developing human resources is the most urgent need for Pakistan at this moment.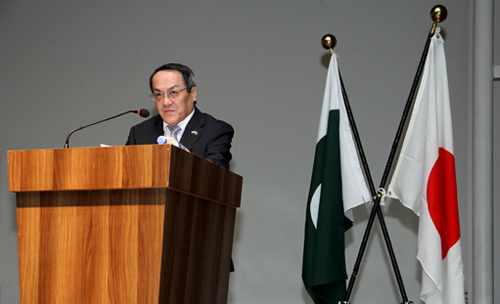 Talking about Foreign Policy, Mr. Ouchi informed the audience about Japan's Pacifist Constitution which was drafted after the 2nd World War. The Japanese being the only nation in the world to have suffered the consequences of nuclear attacks is now one of the chief proponents of non-proliferation and ultimate abolishment of nuclear weapons.

Towards the end of his speech, Mr. Ouchi updated the audience regarding the current policies enacted by the Japanese Government. Under Prime Minister Shinzō Abe large economic reforms, termed "Abenomics", were enacted. Recently, development programs targeted at women, termed as "Womenomics" were also enacted. Illustrating the example of Nobel Peace Prize Winner, Malala Yousufzai, and Mr. Ouchi stressed on the need for education and development for women as the key for any country's growth.

Concluding the session, Mr. Akira Ouchi took questions from the students pertaining to the session. He referred students to the material provided by the Japanese Consul General office for information regarding scholarships and education in Japan.